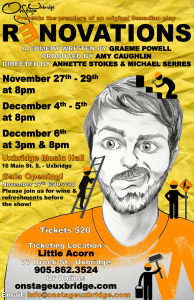 "RENOVATIONS A COMEDY" PREMIERE GALA ON NOVEMBER 27TH.

This hilarious comedy was written by local playwright, Graeme Powell and we are very proud to host its world premiere! To be part of this historic event, get your tickets for the opening night performance on November 27th. On that evening only, we will be opening the doors at 6:30pm. Enjoy refreshments, live music and buy a glass of wine to help us celebrate the launch of this wonderful new play!

There are 2 easy ways to buy tickets.
1) ONLINE: go to our website or  click here for a direct link to our secure ticketing page. You will be able to select your own seats and receive an email confirmation with a link to tickets you can print at home and just bring to the theatre with you!
2) IN PERSON: go to our ticketing location, Little Acorn at 77 Brock Street West in Uxbridge during their regular business hours. (Mon-Sat: 10am-5pm, Sun: 11:30-2:30)
NOTE: If you have already purchased a Season's Pass, you can also use either of the methods above to select your seats and get your individual show tickets using your pass code.