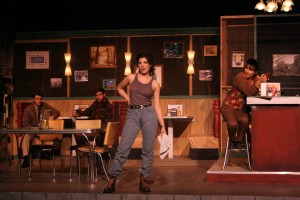 Percy Talbot has just been released from a five year prison sentence for manslaughter. She is trying to find a place for a fresh start, and based on a page from an old travel book, travels to the small town of Gilead, Wisconsin. The local sheriff, Joe Sutter, who is also Percy's parole officer, finds her a job at Hannah's Spitfire Grill – the only eatery in this struggling town. The Spitfire Grill is for sale. But with no interested buyers, Hannah decides to raffle it off. Entry fees are one hundred dollars and the best essay on why you want the grill wins. Soon, mail is arriving by the wheelbarrow full and things are definitely getting hot at the Spitfire Grill. This musical triumph is an inspiring celebration of fresh starts and the power of what one person can do.
For more information on this show check out the Wikipedia article. And for a lovely listen to some of the music check out this video preview created by another company that staged this show.
Ages of characters are flexible and are more dependent on relationships with other characters than the numbers given (except Hannah is the eldest woman).
Percy Talbot: 20's-early 30's –Sad beyond her years, with a strength underneath. Strong folk/Country belt to 'D'
Hannah Ferguson: late 50's + Tough and no nonsense– Mezzo/alto chest range
Shelby Thorpe: 20-45 – plain, and shy, almost ethereal manner. –Shimmering folk soprano with strong high belt to 'D'
Caleb Thorpe: 30's-40's – frustrated working man clinging to the past – Solid folk/rock voice with an edge (Top 'G')
Sheriff Joe Sutter:  20's-to 40's (must 'fit' age wise with Percy) appealing intensity and restless nature –Strong folk tenor to a 'A'
Effy Krayneck: late 30's+ – town busybody.  Solid Singer in mezzo/alto chest range (strong harmonies)
The Visitor: (close to Caleb's age) — Mysterious figure who never speaks.  Powerful eyes and presence.
Please prepare a song that shows your voice at its best.  A formal monologue is not required, but welcomed.  Please be prepared to give an informal, personal monologue. (Talk about yourself so we can get to know you.)
Auditions are open call, so please just show up and be prepared to wait for your turn.
Auditions times are as follows:
Sunday, June 16th between 1pm and 5pm at Goodwood Community Centre
268 Highway 47, Goodwood, Ontario
or
Tuesday, June 18th between 7pm and 9pm at St. Paul's Church Leaskdale
12251 Regional Road 1  Leaskdale, ON
For more information contact pres@onstageuxbridge.com.