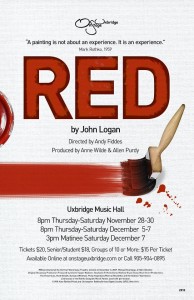 OnStage Uxbridge announces auditions for RED by John Logan, the 2010 Tony award winner for Best Play. RED performance dates are November 28th to December 7th
RED is a searing, two person drama that focuses on two years in the life of Abstract Expressionist painter Mark Rothko as he and his assistant work on one of the largest art commissions of its day.
We have several copies of the script available for loan and we recommend that interested actors read the script prior to auditioning. No monologues or preparations are required.  We will cold read from the script.
The two roles are…
Mark Rothko, the famous Abstract Expressionist Painter.
: 40-50's or older
: passionate and opinionated
: ambitious
: an angry visionary
: intelligent, yet vulnerable
Ken, Rothko's new assistant.
: late teens to 20's or older
: gentle and likeable
: at first intimidated by Rothko, his confidence builds and he challenges
These two actors must be ready for a workout both physically and emotionally.
Dates and Times
Sunday, June 23, 2013 2:00pm- 4:00pm
Monday, June 24, 2013 7:00pm – 9:00pm
Location
Blue Heron Studio
62 Brock St. W. Uxbridge, On.
Blue Heron Studio is in the back of Blue Heron Books.  There is public parking and an entrance to the studio at the rear of the building, but do not park directly in front of the studio due to the parking restrictions.
If you are interested in auditioning but cannot make these dates, have questions, or you would like to borrow a script, please contact the director, Andy Fiddes, at redtheplay@powergate.ca.