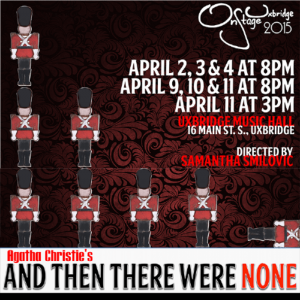 Another enduring classic mystery from the pen of the inimitable Agatha Christie! On an island off the coast of Devon, ten diverse travelers have been led to a secluded vacation home. When the host fails to appear and someone is killed, the guests quickly realize their trip will be far from relaxed. The race is on to determine the identity of the murderer before no one remains. Follow the clues from APRIL 2nd – 11th, 2015.

There are 2 easy ways to buy tickets.
1) ONLINE: click here for a direct link to our secure ticketing page. You will be able to select your own seats and receive an email confirmation with a link to tickets you can print at home and just bring to the theatre with you!
2) IN PERSON: go to our ticketing location, Little Acorn at 77 Brock Street West in Uxbridge during their regular business hours. (Mon-Sat: 10am-5pm, Sun: 11:30-2:30)
NOTE: If you have already purchased a Season's Pass, you can also use either of the methods above to select your seats and get your individual show tickets using your pass code.