OnStage Uxbridge invites you to auditions for our 2018 winter musical: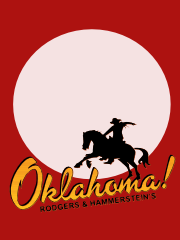 Rogers and Hammerstein's
OKLAHOMA
Directed by Cheryl Atwood
Their first big musical, Rogers and Hammerstein's Oklahoma is considered by many the first time that a musical fully incorporated the story, the songs and the dances. Join us in 1906 in the newly named territory of Oklahoma.
This show has a big cast – over 20 named parts plus another possible 20+ ¬-chorus members – and there's plenty of songs and dancing for everyone. 9 years old to 99 – everybody's welcome.
Not every character needs to sing, but it is helpful if you can carry a tune! However, volume, diction and energy are the most important things to bring to the audition.
For the audition we will teach everyone a little bit of "Oklahoma", so there is no need to prep anything special, although for your own comfort, you may want to listen to the song (on YouTube or wherever) before you come out.
Those auditioning for Laurey, Curly, Ado Annie, Will, Aunt Eller, Jud and Ali Hakim will need to sing solo. Those auditioning for Chorus may choose to sing solo or may choose to sing their audition with a small group.
Laurey and Curly will be asked to sing "People will say we're in Love". Ado Annie will be asked to sing "Cain't Say No". Will will be asked to sing "Kansas City".
We might teach you a little bit of dance, so wear comfy clothes (no costumes, please). You may also be asked to read a bit of script for us.
Auditions are FIRST-COME-FIRST-SERVED, so plan to be there for an hour or so.
AUDITIONS are on Tuesday Oct 10th from 7-9:30pm at Sandford Community Centre (433 Sandford Sideroad) and Wednesday Oct 11th from 7-9:30pm at Goodwood Community Centre (268 Highway 47, Goodwood)
CALLBACKS will be Thursday Oct 12th from 7-9:30pm at Sandford Community Centre (433 Sandford Sideroad). Most people will NOT be called for callbacks.
SHOW DATES (there will be a total of 9 performances) are: January 18, 19, 20, 21, 25, 26, 27 with evening shows at 7:30pm and two Saturday matinees at 2:00pm and a SUNDAY MATINEE on January 21, also at 2:00pm. All performances are at the Uxbridge Music Hall (16 Main Street South, Uxbridge).
FOR MORE INFORMATION and character descriptions please go to our auditions page at: www.onstageuxbridge.com/auditions or contact Cheryl directly at: cheryl-director@interhop.net. Your email will be answered within three days – please be patient – we are traveling outside of email range periodically for the next two weeks.
We look forward to seeing you and thank you for supporting community theatre!