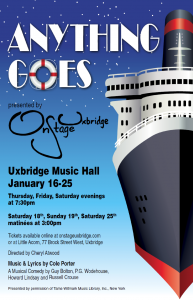 The show starts at 7:30 pm, but come early at 6pm on opening night only for a special pre-show event. Willow Springs Winery will have glasses of wine available for purchase and there will be other treats as well.
The much-loved musical "ANYTHING GOES", directed by Cheryl Atwood, contains some of the most beautiful melodies ever written by Cole Porter. The story contains madcap antics and romance aboard an ocean liner bound from New York to London. An evangelist/turned nightclub singer, a gangster, and a cast of zany characters keep things interesting. This musical introduced such songs as "Anything Goes", "You're the Top", and "I Get a Kick Out of You".
Come enjoy this de-lovely and delightful musical at the Uxbridge Music Hall from January 16 – January 25, 2014.
Buy your tickets online now at:
https://app.arts-people.com/index.php?ticketing=osux