Onstage Uxbridge is thrilled to invite you to audition for: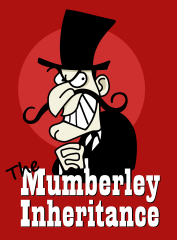 THE MUMBERLEY INHERITANCE
Written by Warren Graves
Directed by Phil Cook
This comic melodrama is a fast-paced romp through the trials and tribulations of Mumberley Manor, England in 1900. Brother Jack is in Canada trying to find the secret of the Mumberley fortune. Father's gambling debts are in the hands of the villainous Marmaduke Mayhem. What can poor daughter Daphne do but marry Mayhem, leaving Rodney Stoutheart and his stiff upper lip at the vestry door? Rodney disguises himself as Jack returned from Canada at the same moment as Jack actually returns. Thus the villain's attempts to dispose of Jack invariably lead to unfortunate experiences for Rodney. Winner of the Samuel French Challenge Award for "Best Canadian Production" and a proven crowd pleaser.
Audition Dates:
Monday, September 11, 7-9 pm
Sunday, September 17, 7-9 pm
Cast Needed:
3 Women and 5 men, ages range 20-80
MR. MARMADUKE MAYHEM – a villain
SIR ROGER MUMBERLEY – a misguided old man
DAPHNE MUMBERLEY – a heroine
RODNEY STOUTHEART – a hero
JACK MUMBERLEY – a long lost brother
CRISPIN CRINGE – a victim of circumstance
DOTTY – a maidservant
POLLY – a nurse
Audition Requirements:
Personal Introductions and cold readings from the script.
FOR MORE INFORMATION please contact Amanda at: thatmrscook@yahoo.ca.