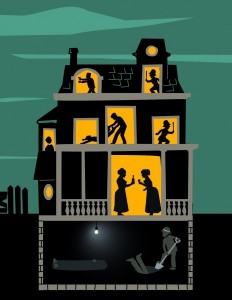 Take two charming – but murderous – old aunts, a nephew who thinks he's Teddy Roosevelt, another whose new facelift makes him look like Boris Karloff, and what do you get? You get a brilliant comedy that is as much of a hit today as it was when it started breaking box office records in 1939.
There are 2 easy ways to buy tickets.
1)
ONLINE:
go to our
ticketing page
. You will be able to select your own seats and receive an email confirmation with a link to tickets you can print at home and just bring to the theatre with you!
2) IN PERSON: go to our ticketing location, Sugar FX at 13 Brock St. W. in Uxbridge during their regular business hours, or call toll free 1-866-808-2006.
NOTE TO SUBSCRIBERS:
If you have already purchased a subscription you can
click here
to login and select your seats.