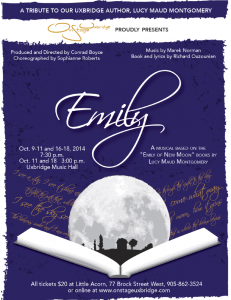 "EMILY: THE MUSICAL" OPENS OCT. 9TH.

Based on the beloved 'Emily of New Moon' series by L.M. Montgomery, this musical is heartwarming entertainment for the whole family. What a great way to celebrate Thanksgiving while your family is in town!
There are 2 easy ways to buy tickets.
1) ONLINE: go to our website or  click here for a direct link to our secure ticketing page. You will be able to select your own seats and receive an email confirmation with a link to tickets you can print at home and just bring to the theatre with you!
2) IN PERSON: go to our ticketing location, Little Acorn at 77 Brock Street West in Uxbridge during their regular business hours. (Mon-Sat: 10am-5pm, Sun: 11:30-2:30)
NOTE: You can also purchase a Season's Pass online by clicking here and save money on a great Season!  If you have already purchased a Season's Pass, you can also use either of the methods above to select your seats and get your individual show tickets.