"THE SPITFIRE GRILL" OPENS THIS THURSDAY AND ONLY RUNS FOR TWO WEEKENDS. GET YOUR TICKETS TODAY!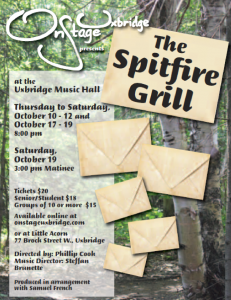 There are 2 easy ways to buy tickets:
1) ONLINE: go to our website or  click here for a direct link to our secure ticketing page. You will be able to select your own seats and receive an email confirmation with a link to tickets you can print at home and just bring to the theatre with you!
2) IN PERSON: go to our ticketing location, Little Acorn at 77 Brock Street West in Uxbridge during their regular business hours.
NOTE: You can also save money on the whole theatre season by purchasing a Season's Pass for only $60. That's 4 shows for the price of 3! Passes are only on sale until October 19th, so get yours now online by clicking here or by visiting Little Acorn during their business hours.
Showtimes for 'The Spitfire Grill' are as follows:
Thursday October 10th at 8:00 pm    
Friday October 11th at 8:00 pm    
Saturday October 12th at 8:00 pm        
Thursday October 17th at 8:00 pm    
Friday October 18th at 8:00 pm    
Saturday October 19th at 3:00 pm    
Saturday October 19th at 8:00 pm