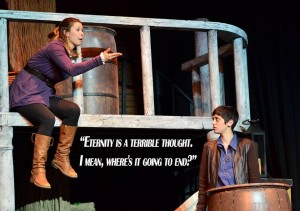 In a world where 'heads' always wins and pirates can happen to anyone, this fabulously inventive tragicomedy thrusts two of Shakespeare's most incidental characters into the limelight.
Rosencrantz & Guildenstern have been summoned to Elsinore by the king. Their purpose: to find out what's wrong with Hamlet. The intrepid, if somewhat bewildered, travelers make their journey, meeting a ragtag group of players along the way. Unsure of both the game and the rules, the until-now-unsung heroes are destined for a more chilling end.
There are 2 easy ways to buy tickets.
1)
ONLINE:
go to our
ticketing page
. You will be able to select your own seats and receive an email confirmation with a link to tickets you can print at home and just bring to the theatre with you!
2) IN PERSON: go to our ticketing locations, Little Acorn at 77 Brock St. W. or Sugar FX at 13 Brock St. W. in Uxbridge during their regular business hours or call toll free 1-866-808-2006.
NOTE TO SUBSCRIBERS:
If you have already purchased a subscription you can
click here
to login and select your seats.