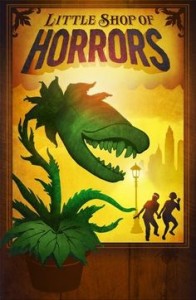 A blockbuster hit when it first opened, this ever popular musical comedy's manic humour and flavourful 60's pop score keeps audiences dancing in the aisles. Come to Skid Row where you'll find a little bit of romance, a little bit of horror, and one very big and blood-thirsty plant!
There are 2 easy ways to buy tickets.
1)
ONLINE:
go to our
ticketing page
. You will be able to select your own seats and receive an email confirmation with a link to tickets you can print at home and just bring to the theatre with you!
2) IN PERSON: go to our ticketing location, Sugar FX at 13 Brock St. W. in Uxbridge during their regular business hours, or call toll free 1-866-808-2006.
NOTE TO SUBSCRIBERS:
If you have already purchased a subscription you can
click here
to login and select your seats.