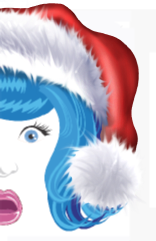 Don't know what to get for the person on your list that has everything?
We have two exciting shows left in our 2014/2015 Theatre Season. "Hairspray: the Musical" (January 15 – 24, 2015) and Agatha Christie's "And Then There Were None" (April 9 – 18, 2015).
Can't make up your mind? You can buy a gift certificate online and send it to your friend or loved one via email!
Gift certificates can be purchased online at:
https://app.arts-people.com/index.php?retail=osux
Tickets for shows are $20 each (all taxes and fees included) so you can make your gift certificate for whatever amount you like to cover the right number of tickets.
If you prefer to buy the tickets themselves, there are 2 easy ways:
Note: If you have already purchased a Season's Pass, you can also use either of the methods below to select your seats and get your individual show tickets:
1) ONLINE: go to our website or  click here for a direct link to our secure ticketing page. You will be able to select your own seats and receive an email confirmation with a link to tickets you can print at home and just bring to the theatre with you!
2) IN PERSON: go to our ticketing location, Little Acorn at 77 Brock Street West in Uxbridge during their regular business hours. (Mon-Sat: 10am-5pm, Sun: 11:30-2:30)
Thank you for supporting theatre in your community and have a safe and happy holiday season!