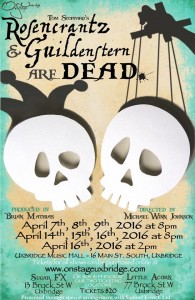 Playwright: Tom Stoppard
Director: Michael Winn Johnson
Producer: Brian Mathias
Stage Manager: Emily MacGregor
STORY: The play concerns the misadventures and musings of Rosencrantz and Guildenstern, two minor characters from William Shakespeare's Hamlet who are childhood friends of the Prince, focusing on their actions with the events of Hamlet as background. Rosencrantz and Guildenstern Are Dead is structured as the inverse of Hamlet; the title characters are the leads, not supporting players, and Hamlet himself is only in the background. The duo appears on stage here when they are off-stage in Shakespeare's play, with the exception of a few short scenes in which the dramatic events of both plays coincide. In Hamlet, Rosencrantz and Guildenstern are used by the King in an attempt to discover Hamlet's motives and to plot against him. Hamlet, however, mocks them derisively and outwits them, so that they, rather than he, are executed in the end. Thus, from Rosencrantz's and Guildenstern's perspective, the action in Hamlet is largely nonsensical and comical.
AUDITIONS:
Thursday, November 19th from 7pm – 10:00 pm (Uxbridge Music Hall, 16 Main St. S., Uxbridge, ON) – Link to Map
Sunday, November 22nd from 5:30pm – 8:30 pm (St. Andrew's- Chalmers Church, 40B Toronto St S, Uxbridge, ON. Parking available on Church St. (one way) entrance off Church St.) – Link to Map
CALL-BACKS:
Sunday, November 29th from 2pm – 5 pm (Uxbridge Music Hall, 16 Main St. S., Uxbridge, ON) – Link to Map
To book an audition, contact Brian Mathias at mathiasbriano@gmail.com
REHEARSAL DATES: There will be one cast meet and greet session in December (Date TBD) Rehearsals begin in January:
Mondays (7:30 pm to 10:30 pm)
Wednesdays (7:30 pm to 10:30 pm)
Sundays (1:00 pm to 6:00 pm)
A full rehearsal schedule will be given out the first week of rehearsals. Please let us know at auditions of any conflicts you may have with the rehearsal schedule.
Please Note: Some additional or longer rehearsals will be held once the production has moved to the theatre.

PERFORMANCE DATES:  April 7th, 8th, 9th & April 14th, 15th, 16th (2016) at 8pm & April 16th at 2pm
PERFORMANCE LOCATION: The Uxbridge Music Hall, 16 Main St. S., Uxbridge, ON
AUDITION REQUIREMENTS:
Please prepared to do a cold reading of selected scenes from the script.
Please provide a hard copy resume and head shot (if possible) on arrival as well as a completed audition form (forms available at audition). Be prepared to stay at the audition for the duration.
For a list of roles available, please see full posting on Audition Page.
BOOKING AN AUDITION:
To book an audition, contact Brian Mathias at mathiasbriano@gmail.com
NON-PAYING – NON-EQUITY