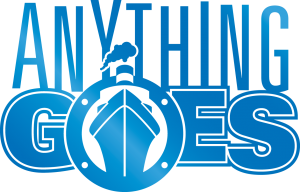 OnStage Uxbridge invites you to auditions for our 2014 winter musical:
Cole Porter's "Anything Goes"
Directed by Cheryl Atwood
A fun, fast-moving, light-hearted romp through some of Cole Porter's best music. This 1962 version of the script has a cast of more than 25 speaking parts. And – as always – not every character sings, but it's always helpful if you can carry a tune!

For the audition we will teach everyone a little bit of "Anything Goes", so there is no need to prep anything special, although for your own comfort, you may want to listen to the song (on YouTube or whatever) before you come out.
If you are auditioning for RENO, also plan to sing "I Get a Kick Out of You" and if auditioning for BILLY or HOPE, plan to sing "All Through the Night".
We will also teach you a bit of dance, so wear comfy clothes (no costumes, please). If auditioning for RENO, BONNIE or one of the ANGELS, please try to bring TAP SHOES.
You may also be asked to read something from the script for us.
Auditions are FIRST-COME-FIRST-SERVED, so plan to be there for an hour or so.
AUDITIONS
are at St. Paul's Leaskdale, 12251 Regional Road #1, Leaskdale (the new church north of Leaskdale on the East side of the road) on
Tuesday, October 1st from 7:00pm to 9:00pm and Wednesday, October 2nd from 7:00pm to 9:00pm.
CALLBACKS
will be at the same location (St. Paul's Leaskdale) on
Thursday, October 3rd from 7:00pm to 9:00pm.
Not everyone will be called for callbacks.
READ-THROUGH
will be at the same location (St. Paul's Leaskdale) on
Wednesday, October 9th from 7:00pm-10:00pm (approx.). Plan to attend if you are cast.

FULL CHORUS REHEARSALS will be on Sunday afternoons from October 20th to December 15th with an occasional evening rehearsal.
OTHER REHEARSALS
will be set once the show is cast.
SHOW DATES

There are a total of 9 performances in Uxbridge: January 16, 17, 18, 19, 23, 24, 25 with evening shows at 7:30pm and two Saturday matinees at 3:00pm.
Please NOTE: There is a SUNDAY MATINEE on January 19th, also at 3:00pm.
THERE MAY BE 2 SHOWS IN LINDSAY
on Saturday, February 1st with a MANDATORY rehearsal in Lindsay on Friday, January 30th.
FOR MORE INFORMATION
and detailed cast information please click on the link below or contact Cheryl directly at:
anything-goes-director@onstageuxbridge.com.
If you do not hear back within 24 hours, it means cyberspace has eaten your email so please try phoning Cheryl instead: (905) 473-5456.
Anything Goes Detailed Cast Information