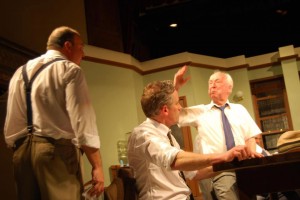 This play tells the story of a jury of 12 men who are deliberating the guilt or innocence of the defendant, a Latino youth accused of killing his father.
12 Angry Men explores a variety of techniques for consensus-building, and the difficulties encountered in the process, among a group of men whose range of personalities adds intensity and conflict as a dissenting juror in the murder trial slowly manages to convince the others that the case is not as cut and dried as it appeared in court.
Set in late 1950s New York, the play was written by Reginald Rose, who also wrote the 1957 film version script, starring Henry Fonda and directed by Sidney Lumet. Other well-known actors that have appeared in other versions of 12 Angry Men are George C. Scott, who won a Golden Globe for his supporting role, and Jack Lemmon.
Twelve Angry Men opens  Thursday, April 5th, 2012 and only runs for two weekends. Tickets are going fast so be sure and get yours soon!
There are 3 easy ways to buy your tickets.
1/ IN PERSON go to La Petite Fleur, 43 Brock St. W. during their regular business hours.
2/ ONLINE go to our website and fill out the easy to use form:
You will receive an email confirmation of your seat location and your tickets will be held at the special VIP table at the door.
3/ BY PHONE call 905 904-0895 to arrange to pick your tickets up at the door on the day of your desired performance.
PERFORMANCE DATES AND TIMES
Thursday, April 5th  – 8 pm
Friday, April 6th – 8 pm
Saturday, April 7th – 8 pm
Thursday, April 12th – 8 pm
Friday, April 13th – 8 pm
Saturday, April 14th – 3:30 pm (MATINEE)
Saturday, April 14th – 8 pm